I used a very large background image and set it with WidthFraction, HeigthFraction, psFit, Anchor to the center. Everything is OK.
Then I inserted an image cut out from the background and resized it.
What happens is that by resizing the Editor (but also with the application running) the sprite moves when the sidebands are replaced by the upper and lower ones.
I tried to play around with the settings a bit but without success.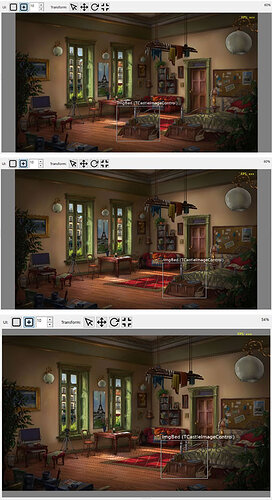 Is there anything I can do to anchor the image there?
I was also wondering: when I insert an image cut out from the background it is quite laborious to manually resize it so that it perfectly overlaps its copy.
Isn't there a way to give it the same aspect ratio as the background image has at that moment?
I thought that a solution would be to work on the images of real size, so it will then be the engine to resize everything by enlarging or decreasing the window but it would not seem possible to do it. Maybe if the Editor had scroll bars?
At the moment it can be solved by creating a sprite of the same size as the background image. So it works well.