I have created some planes in CGE to set up borders of limitation for moving transforms. (sprites).
Depending on the situation I would like to switch them off so the transform can pass it.
But when I use Plane.Exists := False the limitation is still there. Is this a bug with the planes and if not: how can I switch off planes on runtime?
RightPlane.Exists := false; // it has to be inactive

     if (PlayerTransform.WorldBoundingBox.Max.X >= RightPlane.Translation.X) then
     begin
       StandRight;
       PlayerText.Caption:= 'I cannot get to the right any further.';
     end;

The limitation is still there.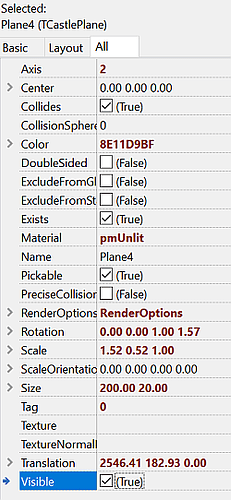 RightPlane := DesignedComponent ('Plane4') as TCastlePlane;